OKTAGON – WORKSHOP – PUBLIC ART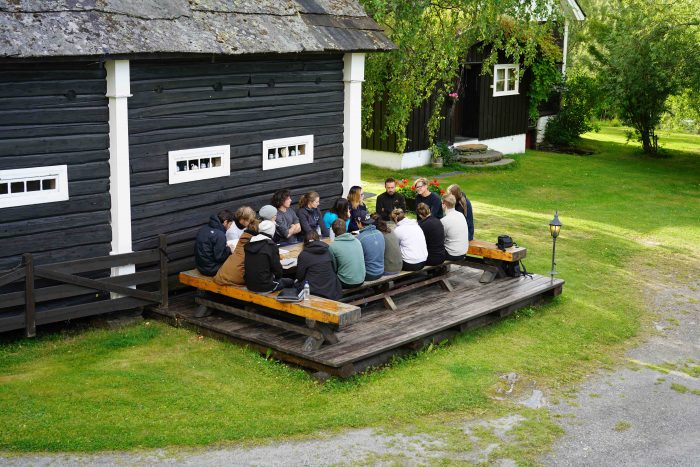 The work consists of two octagonally shaped installations, one by the lake Strandtjønn and the other one on top of Hella, a rocky hill overlooking the river Gudbrandsdalslågen.
The idea behind the work was to establish a sense of timelessness in an area which has been in a continuous transformation, first by the forces of nature on a larger scale and then by human beings on a much smaller scale, but still significant enough to completely change the pattern of movement through the valley. The latest of these changes is the rerouting of the highway E6 through the valley, with the aim of reducing the time of travel between Oslo and Trondheim and at the same time raising the level of safety for travelers to more contemporary standards. The main paradox in this is the fact that while making traveling more efficient and comfortable for the passer-by, the increase of travel velocity affects the attention towards the visual quality of the environment one passes through.
The aim of our project at Harpefoss is to reverse this pattern and instead offer the traveler an oppurtunity to slow down and have a rest by the river; the water element which has shaped the area through hundreds of thousands of years, thus get in touch with the environment on a larger scale. One of the installations is an octagonal catwalk which encircles the edge of the lake and the beginning of a small brook which runs into the large river of Gudbrandsdalslågen, and an octagonal construction surrounding a campfire, a contrasting element helping to slow the heart rate down while enjoying the view towards the river and the valley.
– Dagur Eggertsson
The project was developed as one of 10 public art works within the Crossroads/Vegskille project with took place between 2015: https://en.lillehammer.com/things-to-do/attractions-and-culture/art-landscape-gudbrandsdalen
through conversations with the curators during a design/ build workshop at Harpefoss in October 2017.
Project info:
Location: Harpefoss 61°34'19.2"N 9°51'32.1"E
Commissioner: Sør-Fron municipality
Curator: Eivind Slettmeås
Lead designers: Rintala Eggertsson Architects
Co-designers: Students at NTNU department of architecture; Elise Gaare Ytterstad, Jasmin Grohman, Hampus  Oscar Larsson, Lucie Ginette, Anne Marie Thamas, Martin Alexandre Thibaut de Gaulle, Jo Kolberg Sjølie, Dario Jessen, Anne Rodriguez Mesanza, Tiffany Veronique Panchaud, Sara Castany Rio, Remi Goenendijk, Lucie Marine Defrance, Ellen Remy, Luc Olivier Alain Rousseau, Ellen Fuhrer, Bergdis Bjarnadóttir and Heidar Samúelsson